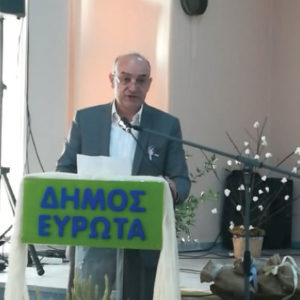 Verdos Dimos
Curriculum vitae
Dimos Verdos was born in 1968 in Myrtia, Laconia, where he lives permanently. He is married to the philologist Paraskevi Markakou and has two sons, Giannis and Giorgos, aged 24 and 20 respectively.
He studied at the Fire Academy of Athens and worked for 23 consecutive years in the services of Attica and Laconia. He developed a rich social activity by participating as president of cultural and sports clubs.
He was actively involved in local government and was elected municipal councilor with the "Modern Society" faction in the municipal elections of 2011 and 2014.
He was appointed Deputy Mayor of the Municipality of Evrotas in September 2015, responsible for Civil Protection issues, as well as Planning and Implementation of small-scale projects (rural road construction projects and municipal road maintenance). During his tenure he pioneered the establishment of the first in Greece Voluntary Fire Station II class in the Municipality of Evrotas.
He was elected mayor, in place of the resigned Giannis Grypiotis, following a vote held among the members of the majority faction in a special meeting of the Board of Eurotas, on December 19, 2017.
In the elections of May 26, 2019, he was elected Mayor of Evrota, as head of the "Open State of Evrota", with a percentage of 57.95%.